Market is changing every Second. Do you want your business to keep up the pace in simplify manner?
Every wants upto date with his business from tip to teo, on a finger tip! Saniiro Cloud management System is here to help. We buffet everything about your business at one platform in a most simplified way.
Need assistance about the right service & software selection for your business? We are here for you. Get a complete free
consultation immediately.
(+91) 9799299871
Saniiro helps you to keep your business one step ahead in the race!
Streamline everything about your business without hassle. Say good bye to manual work & automate your dream. We are here to provide you simplified solution to every problem & let your empire grow even bigger!
Benefits
Manage your accounts electronically with a single click!
Create invoices & estimates
Manage inventory level
Track Sales & pending Orders
Track expanses & bills
Manage projects with timesheet
Become A Partner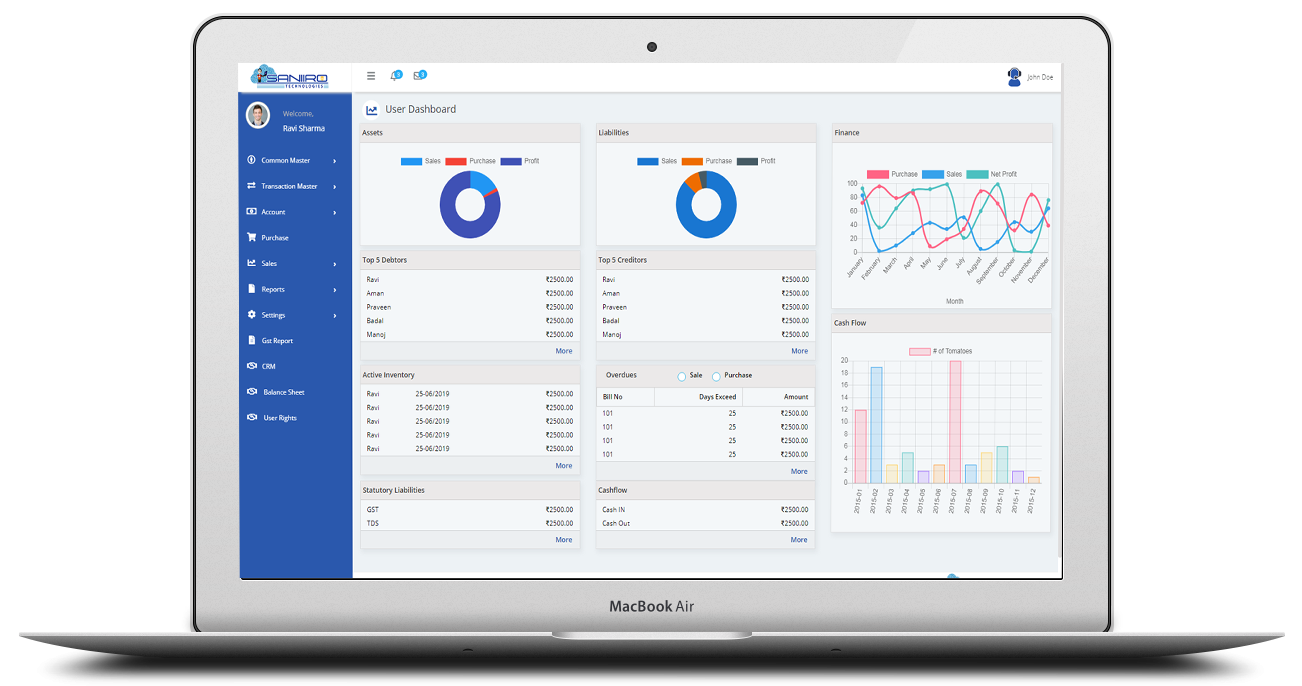 Why choose us?
A one-stop-hub for all your ERP,CRM solutions.
Easy to use software with its intelligent reporting system.
Software made keeping in view MSME Act and reports related to this act.
Our approach is to combine our understanding of user behavior with a commitment to meeting the business goals of our clients.
MAKE IN INDIA software, it was made by keeping indian business style in mind.
Easy integration with other software and govt sites.
E-way bills and GST compiled software.
Anywhere access with mobile application.
Best in class CRM integration which track employee location, sales, revenue and expenses, auto generate leads and follow up to increase revenue.
Client Testimonials
What our customer says about us
Saniiro not only helps streamline our invoicing, expenses and other business needs, but also simplifies few specific Accounting needs to a great extent. One can even file GST returns from within it, which is a great add-on feature for free. I save a lot of time with having a single place to create estimates, invoices, record payments, and all integrated with my customers. It has just the right mix of functionality and simplicity. Above all, the Support is outstanding.

Aditya Single, Director,
TGSANEJaipur
Saniiro is very simple to use and automates most of my business workflows.The dashboard lets me quickly know how my business is performing. Saniiro helped our team to improve productivity, save time and manage more clients in less time. It is really a 'WOW' platform to work on. You really don't have to be an accountant to use this.
Michalis Michalatos, Manager,
Aragorn Hotel, Jaipur
Previous
Next